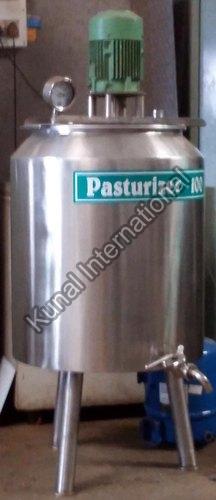 Batch Pasteurizer is a tank, commonly designed for small dairies, with periphery heating. The pasteurizer heats milk batches to 65 ° C and keeps them down to the ideal temperatures for thirty minutes before cooling down.

About:

The pasteurizer is installed on legs that can be tilted completely to empty the vat. The pasteurizer is used by Batch Pasteurizer suppliers in Karnataka to manufacture milk products. The pasteurizer consists of a three-wall sealed, stainless steel vat with a stirrer, a motor reducer, and a stainless steel control panel, overhead stirring system.

During the holding period, the milk is heated and stored in the vat. During the hold time for each sample, the milk can be cooled in the vat or removed hot. The milk can partially be heated before it enters the vat in a tubular or platform heater. This process does not use much milk, but some of it is used for milk by-products (for example creams, chocolate) and batches. The vat pasteurizer is widely used in the ice cream industry because it allows the ingredients to dissolve and blend during the heating stage.

Types:

● Dome/conical top pasteurizer -
For larger lot sizes and an economical alternative to the HTST system, this is a good choice. This type of tank is ideal if it requires little access before or after pasteurization. This is also a concept that fits well with CIP systems that are clean-in-place.

● Open top pasteurizer -
This design is ideal for manufacturers of artisan dairy, as the experimentation with small-batch cheeses and recipes without a large commitment is possible. It allows full access to the bowl during the cheese-making process with removable tabs and a swing agitator.

● Wing top pasteurizer -
The tank is built with a middle bridge and removable lids, which make it a favorite of the yogurt and ice cream makers. It gives you access to your product to detect or add extra ingredients.

Size determination:

Two considerations must be taken into account in the scale of the batch pasteurizer: maximum capacity and minimum capacity. Many 100 gallon vats, for example, have a minimum of 30-40gallons. This means that at least 30 gallons must be processed at once. Many of the most profitable niches are very small amounts of specialty goods for many small-scale producers. One example will be the ones created for a specific restaurant exclusively. You can reduce the ability to serve that market by a minimum of 30 gallons. You may want little small samples for testing purposes too. If the experiment does not perform well, 30 gallons will be a lot to throw away.

Final Words:

Batch pasteurizing, also known as vat or low-temperature pasteurization, is one of many acceptable ways of pasteurizing milk. This is obviously more healthy than raw (unpasteurized) milk, a cause of many foodborne disease outbreaks over the years. In vat pasteurization, milk is heated for a longer duration (145 ° F for 30 minutes) in small batches to a lower temperature, then quickly chilled. The flavor is best preserved and milk is not typically homogenized to cover the rim with a layer of cream.