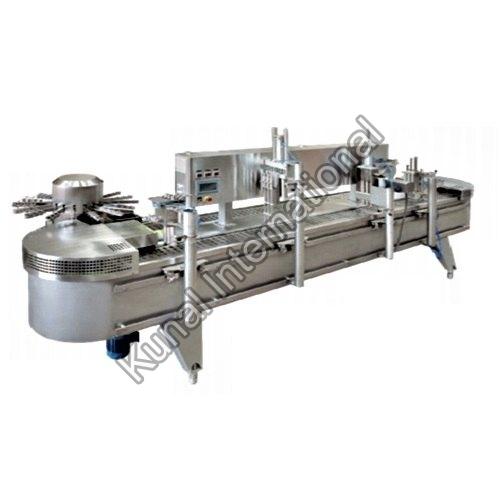 Ice candy plant is the ice cream machines are acknowledged for energy efficiency and durability. It is manufactured using high-grade raw material and complies with international standards. These plants are highly useful in hotels, restaurants, fast food joints, airports and in many other places.

Ice cream making plants offer a wide range of choices such as ice cream only models, integrated frozen food models, and complete meal models. Apart from new machines, used and refurbished models are also available in the market.

Is this machine useful for small space business?
Ice candy plant can be used even in limited space, but the production rate will still be high are it will fulfil all the requirements of the clients. Ice Candy plant is fully developed and quite variant. You can change the capacities of the production by changing the mounds. Therefore you can use it to establish your small scale business as well.
Compatibility for home:

Using an ice candy plant is a great way to make fresh, unique ice cream. One of the best things is it's free of preservatives and chemicals. Being interested in healthy eating or organic food, and ice candy plant manufacturer needs to be contacting who is perfect for healthy treats.

Features of an ideal Ice Candy Machine:

• Efficient electrical defrosting system
• Automatic temperature controls
• Easy installation and maintenance
• Stainless steel chambers to make safe usage of materials
• Available in customized ranges
• Easy to use
• Accurately developed
• Hassle-free functioning

Materials used to make ice candy plant machine

• Stainless steel
• Aluminium
• Gunmetal
• Mild steel
• Brass

Features of an ice cream plant

Ice cream plants vary in quality and price at the ice candy plant manufacturers. But it's possible to buy a good electric one. An ice candy plant or a machine is relatively simple, with a canister, an electric motor, a cover to spin the canister, and a plastic scraper.

Some Common Features of high-quality ice candy plant

• The best quality ice candy plants are made of top-notch quality food grade stainless steel materials.
• They are built-in quality thermal insulation organism.
• User-friendly operating system - easy to handle.
• It offers long service life and outstanding performance with imported brand compressors.
• The machine implements the top-quality galvanized stainless steel that lasts longer.
• The active fans keep the compressor cool ultimately to protect the compressor.
• Each good device has a fast cooling speed that can make ice less than 60 seconds.
• It enriches the taste while maintaining rich nutrition and revitalizing flavour.
• Different buttons of the machine have different colours that help to operate the device accurately.
• Users can make various types of ice cream, including soft or hard, ice mud, smoothies, snow ice, slush, ice porridge, fruit ice.

Who supplies the best quality ice candy plants?

There are leading suppliers of ice candy plant that supply the trusted quality in their products. They are endowed with the following features:

• Capability to provide ice candy plant in bulk
• Marketing leading price for top –quality products
• The time stipulated delivery across the nation
• A diverse range of ice candy plants